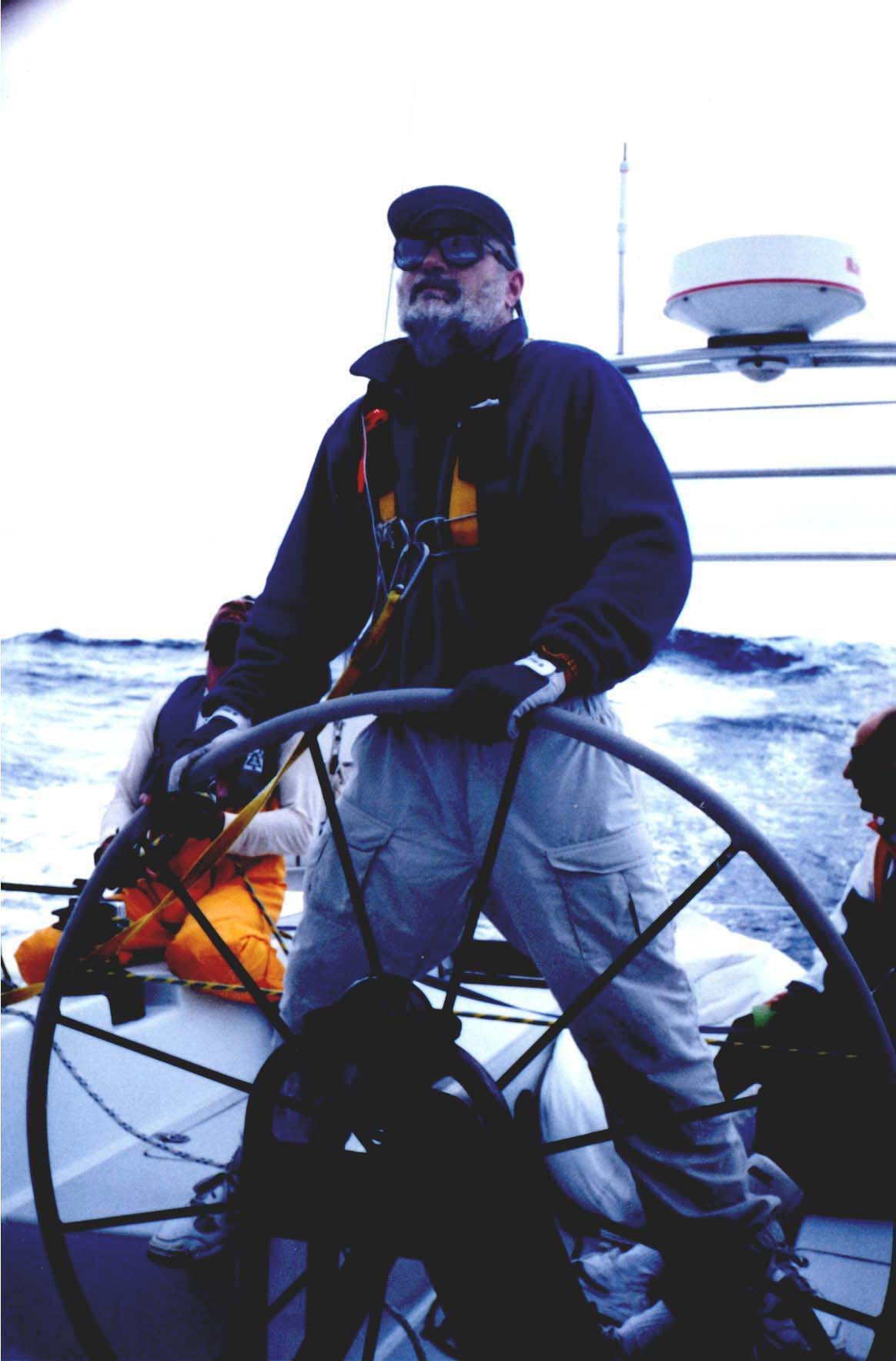 photo from the documentary movie "Rock The Boat"

KEITH ERICSON

3138 45th St, San Diego, CA 92105-4304

619-275-3839

Email Keith: keithericson@earthlink.net
Skipper, Captain, Yacht Delivery, Sailing Instruction, Boating Instruction, Sailing Instructor, Boating Instructor, Sailing, Boating, Tugboat, TOAR
U S Coast Guard Licensed Captain, Master of Tow, 1600 gross tons power, 100 gross tons sail
American Sailing Association (ASA) Certified Instructor
Professional Association of Diving Instructors (PADI) Certified Diver
Certified by the U S Coast Guard as Designated Examiner (DE) to conduct assessments of individual competence and to sign a candidate\\'s Towing Officer Assessment Record (TOAR)- expired 10/31/13.
LET\\'S GO SAILING
619-275-3839
Instruction: Sail, Power, Navigation
Charters, Rentals: I\\'ll find the perfect boat for you with or without a captain
I\\'ll captain your boat while you enjoy the party
YACHT DELIVERIES
619-275-3839
Safe Deliveries, Sail and Power, Short and Long Distance, Pleasure and Commercial, Captain and Crew or Captain with you and your crew
I have made many deliveries, all safely (see resume and references below).
I have a life time of boating including instruction, deliveries, racing, and cruising.
I served 10 years in the U S Navy as a Commissioned Officer.
I am currently working as a tugboat captain with time available for instruction and deliveries.
SAN DIEGO SKIPPERS ASSOCIATION
619-275-3839
Professional Licensed Captains Available for Instruction, Charters, Deliveries, Sea Trials, and Consultation.
I support Challenged America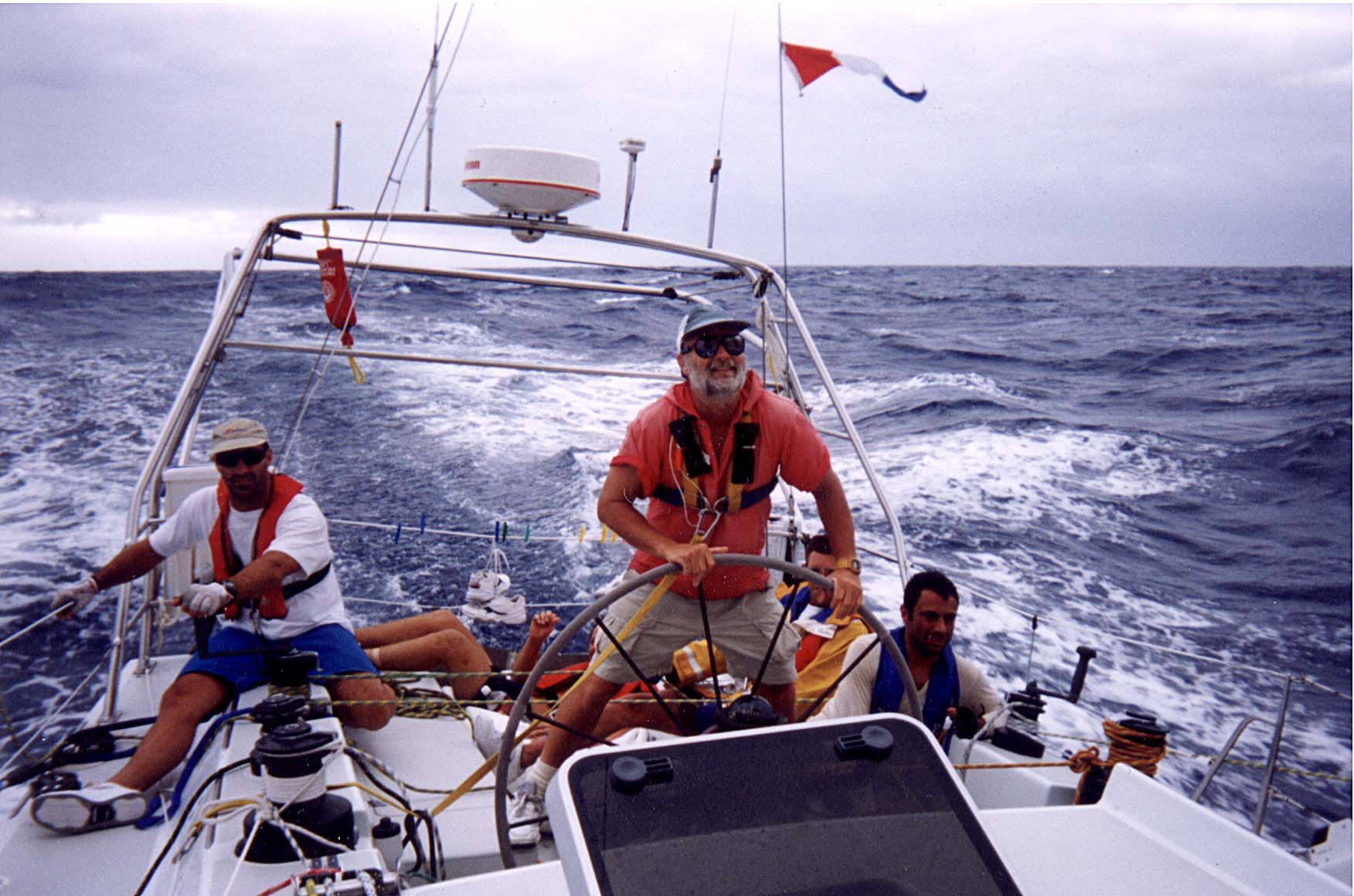 photo from the documentary movie "Rock The Boat"

RESUME
EDUCATION:
B A in Economics, University of New Mexico
LICENSE: U.S. Coast Guard License: Master of Near Coastal Steam or Motor Vessels of not more than 1600 gross tons and Master of Near Coastal Sail Vessels of not more than 100 gross tons, Master of Tow.
CERTIFICATION: American Sailing Association (ASA) Certified Instructor.
Professional Association of Diving Instructors (PADI) Certified Diver.
Certified by the U S Coast Guard as Designated Examiner (DE) to conduct assessments of individual competence and to sign a candidate\\'s Towing Officer Assessment Record (TOAR).
WORK EXPERIENCE
TUGBOAT OPERATOR: January 2006 to present Harbor Tug & Barge Service, on call as Operator or Mate, most work is towing between San Diego and Ensenada, MX. July 2005 to present Sause Brothers, on call as Operator, most work is ferrying barges in Long Beach Harbor. April 1990 to present: Foss Maritime, on call, as Operator, Mate, Deckhand in San Diego Bay, most work is ship assists. September 2003 to March 2005: Westar Marine Services, working one week on, one week off as a Tugboat Captain in San Francisco Bay, most work was marine construction. August 1989 to March 1992: Harbor Tugboat Service, on call, as Operator, Mate, and Deckhand in San Diego Bay, most work was marine construction. June 1991 to August 1996: West Coast Marine, on call, as Operator in San Diego Bay, most work was marine construction.
TOUR BOAT OPERATOR: 31 May 1989 to 25 March 1990: Captain for Invader Cruises operating three vessels: schooner INVADER (151\\', 97 gross tons), motor vessel DIPLOMAT (130\\', 99 gross tons), stern wheeler SAN DIEGO SHOW BOAT (110\\', 99 gross tons), conducting harbor tours, dinner cruises, and private parties.
CHARTER CAPTAIN: 1989 to present: on call, as charter captain for Harbor Sailboats, San Diego Yacht Charters, South Western Yacht Charters, San Diego Sailing Club, Marina Sailing, Seaforth Baot Rentals, Downtown Boat Rentals, Coronado Boat Rentals, and Harbor Island Yacht Club.
SAILING and NAVIGATION INSTRUCTOR: 1989 to present: on call, as instructor for Sailing Solution, Harbor Sailboats, Mission Bay Sports Center, Marina Sailing, and San Diego Sailing Club.
SAILING SCHOOL DIRECTOR: July 1992 to December 1997: Owner/Director, Sailing Solution. 1 April to 31 October 1988: Director, City Island, NY branch of Steve Colgate\\'s Offshore Sailing School.
DELIVERY SKIPPER: 1988 to present: Yacht deliveries local and long distance. See references.
TRUCKING: January 1980 to December 1987: Owner/Operator in the long haul trucking business.
CARPENTER: 1978 to 1980: Carpenter in residential construction.
CHIEF MATE: 1977: Chief Mate aboard schooner Polynesia (265\\', 4 masted, 600 gross tons) in the Caribbean cruise trade.
NAVY: 1966 to 1976: Commissioned Officer (Surface Line), U.S. Navy, five ships and two shore duty billets, Officer of the Deck aboard Attack Aircraft Carrier and smaller ships. As Operations Officer and Navigator, USS Hampshire County (LST-819) received significant ship handling experience serving as Officer of the Deck (for special evolutions) operating on the rivers of the Mekong Delta as resupply ship to the river bases during combat operations. Serving aboard two ships as Navigator and four ships in Operations Departments afforded opportunity to acquire extensive experience with all phases of ship handling and navigation (celestial, coastal, piloting). Received significant management and logistics experience in all billets, especially as Officer in Charge of Material and Maintenance Management (3M) Assist Team for Commander Amphibious Group One and Chief Engineer aboard USS Turner Joy (DD-951).
REFERENCES
1. for the following I have conducted several deliveries and/or instruction and/or charters
a. Tom Hirsh, Harbor Sailboats, 619-291-9568
b. Andrew Kurtz & Serge DeCorte, Seaforth, Downtown, and Coronado Boat Rentals, 619-223-1681
2. as tour boat operator
a. Rich Goben, Hornblower Invader Dining Cruises, San Diego, 619-726-8844
3. non emergency rescue service
a. David Drenick, Vessel Assist Dana Point, 949-493-6353
4. crew boat and dive boat operations
a. Al Shapiro, C&W Diving, 858-342-8585
5. tugboat operations
a. Dave Rodin, Foss Maritime, 562-951-3214
b. Dave Dodge, Sause Brothers
6. deliveries 

a. Jorge Gutierrez & Sergio Peraza, Catalina 36, sailboat, San Diego, CA to Puerto Vallarta, MX 011-52-36-22-02-40


b. J. Randolph Pauling, 44\\' sailboat, Hawaii to San Francisco, CA, 1321 Pelican Way, Point Richmond CA 94807 


c. Ryan Curran, 32\\' sailboat, Long Beach, CA to San Diego, CA 


d. John Best, Islander 41, sailboat, Marina del Rey, CA to San Diego, CA, 602-439-1595 


e. Ron Majerick, Bertram 46, sports fisher, Acapulco, MX to Oceanside, CA 


f. Pete Dorsa, Hatteras 58, motor yacht, San Diego, CA to Cabo San Lucas, MX 1994, Cabo San Lucas, MX to San Diego, CA 1995, Cabo San Lucas, MX to San Diego, CA 1998, Marina del Rey, CA to Santa Barbara, CA in 2000, 949-951-3256 


g. George Jones, Ericson 38, sailboat, San Diego, CA to Ventura, CA, 805-523-0277


h. Lynn Massey, 36\\' trawler, San Diego, CA to Ventura, CA, 714-724-9444


i. Eldon Tucker, TURKEY TRACKS, Lancer 70, motor sailor, San Diego, CA to Ensenada, MX, Ensenada, MX to San Diego, CA, several short trips around San Diego and Southern California, and care taking in Ensenada and San Diego, 319-382-9677


j. Dave & Julie Carew, Ericson 27, sailboat, Dana Point, CA to San Diego, CA, 619-558-2474 


k. Darrel & Dorothy Allan, Sun Coast Yachts & Charters, 28\\' Bristol Channel Cutter, sailboat, Morro Bay, CA to San Diego, CA, 619-297-1900 


l. Zonna Pennell, WAVE REVIEW, Hatteras 58, motor yacht, captain for many weekend outings in San Diego, CA, 619-226-7777


m. Tom Bachman, END OF THE WORLD, Tartan 37, sailboat, San Diego, CA to San Francisco, CA, 707-763-4345


n. Robert & Pamela Kimbrough, MISS TRIAL II, Bayliner 38, motor yacht, San Diego, CA to San Pedro, CA, 909-677-5077 


o. Bob Gorham, IDLE MONEY, Bayliner 38, motor yacht, Huntington Beach, CA to San Francisco, CA, 909-694-8775


p. John Plander, INCISOR, J-35, sailboat, San Diego, CA to Newport Beach, CA, 858-488-9750 


q. Wesley MacDuckston, PAL JOEY, Blue Water 40, trawler, San Diego, CA to San Francisco, CA, 510-821-5720 


r. John Clauser, BODACIOUS, Farr 40, 1 ton, sailboat, Hawaii to San Francisco, CA in 1998 and 2000, 925-939-9885 


s. Kenneth Steers, LEILANIE, Striker 43, sport fishing boat, Long Beach, CA to San Francisco, CA, contact his assistant Randy Homan, 800-562-9915x118 


t. Brian Bird, EGRET, 41\\' Challenger Ketch, sailboat, San Diego, CA to Santa Barbara, CA, 510-536-5118


u. Ed Kish, TULLY MARS, Crealock 37, sailboat, Ventura, CA to San Francisco, CA, 805-583-2799 


v. Robert Bussard, UPROARIOUS, Olsen 40, Sailboat, Puerto Vallarta, MX to San Diego, CA, 858-693-8504 


w. Dwight Stanford, MARY GAIL, Chris Craft 45, power boat, San Diego, CA to Humboldt Bay (Eureka, CA), 858-756-3671 


x. Carl Gerber, ROCHELLE, Dufour 39, sail boat, San Diego, CA to Marina del Rey, CA, 818-783-7300


y. Don Clark, SEASIDE ESCAPE, Coastal 52, power boat, Oceanside, CA to Moss Landing (Monterey Bay, CA), 559-897-1285


z. Ron Gruenwald, C\\'EST LA VIE, Beneteau 40, sail boat, San Francisco, CA to San Diego, CA, 650-969-9512


aa. Robert Sklar, BREATHLESS, Mainship 40, power boat, Newport Beach, CA to San Diego, CA, 714-454-4080 


bb. Ed Breiling, FISHORE, Uniflite 42, powerboat, San Diego, CA to Valejo, CA (San Francisco Bay), 925-778-0200 


cc. Greg Nelson, 949-645-5305, or Brian Mock, 9489-225-0215 x 103, TAXI DANCER, Reichel Pugh 68, sailboat, Hawaii to Newport Beach, CA 


dd. Chris O\\'Brien, 916-716-1239, LITTLE WING, Sabre 36, sailboat, San Francisco, CA to San Diego, CA 


ee. Dave Witte, 510-782-9811, ABSO-LOOT II, 48 Californian, power boat, Avalon, Santa Catalina, CA to Oakland, CA 


ff. Gordon Strachan, gordonstrachan@hotmail.com, QUIT-N-TIME, Pearson 34, sailboat, San Diego, CA to Santa Barbara, CA 


gg. Alan Spears, minitug@yahoo.com, COCONUTZ, 29\\' Falmouth Cutter, sailboat, Wilmington, CA to San Diego, CA 


hh. John Reichel, 760-731-7815, GOD\\'S GRACE II, Catalina 30, sailboat, Marina del Rey, CA to San Diego, CA. 


ii. Tom Button, 772-286-0171, no name, brand new from the manufacturer in Asia, Kadey Krogen North Sea 42, power boat, Sausalito, CA to Ensenada, MX. 


jj. David MacWha, email: dmacwha@synergymicro.com, COMPENSATION, 46\\' power boat, Discovery Bay in the San Francisco Delta to Mission Bay in San Diego, CA 


kk. Josh Ross, Ahoy@ChallengedAmerica.org, Challenged America, B\\'QUEST, Tripp 40, sailboat, Honolulu Hawaii to San Diego, CA


ll. Audra Beauchamp and Sheila Hubbard, AURORA, Tayana 48, sailboat, Ventura, CA to Santa Cruz, CA and ABOUT TIME, Catalina 36, sailboat, Santa Cruz, CA to Dana Point, CA

mm. Beau Gaynor bgayner@utcfinancial.com and Dave Clark dcclarke@pacbell.net, HULA GIRL, Santa Cruz 50, sailboat, Hawaii to California
nn. Terry Rugg trugg@san.rr.com, TETENDA, Islander 36 sailboat, Redondo Beach, CA to Half Moon Bay, CA.
oo. Lou Helmuth, louhelmuth@gmail.com, 619-316-6360, FOUR WINDS, Tayana 37, sailboat, San Diego, CA to Sausalito, CA.
pp. Steve Nye, snye@infoblox.com, 408.986.5575, Offshore 55, power boat, San Diego, CA to San francisco, CA.
qq. Steve Nye, snye@infoblox.com, 408.986.5575, Offshore 55, power boat, San Francisco, CA to San Diego, CA.
rr. Matthew Collier, matthew.d.collier@accenture.com, (415) 279-3419, McGregor 65, sailboat, Vancouver, Canada to San Francisco, CA.
ss. Chris Iverson, chris.iverson@haganhamilton.com, (503) 396-1199, Luhrs 36, power boat, Newport Beach, CA to St Helens, OR.
tt. John Nicks, 714-345-5819, Kimble, Bertram 46, power boat, Newport Beach, CA to San Diego, CA
uu. Bruce Shank, NANI MOANA, Silverton 375, power boat, Marina del Rey, CA to San Francisco, CA.
vv. Al Frost, PONO, Beneteau 432, sailboat, Los Angeles to Kauai, Hawaii.
ww. Mike Moore, <mike@phoenixclassaction.com>, EMMA NATE, Cabo Express 45, powerboat, Ensenada, MX to Long Beach, CA,
xx. Paul Grossman, <pdg@thpartners.net>, WHITE CLOUD, Cookson 12M, sailboat, Puerto Vallarta, MX to San Diego, CA.
yy. Jeff Rodriquez, jrod2718@gmail.com, BELLATRIX, Salona 41, sailboat, Ensenada, MX to San Diego, CA
zz. Paul Grossman, <pdg@thpartners.net>, WHITE CLOUD, Cookson 12M, sailboat, Puerto Vallarta, MX to San Diego, CA
aaa. Zach Todaro, < ztodaro@gmail.com>, MOON DANCER, Columbia Sabre, sailboat, Huntington Harbor, CA to San Diego, CA
7. sailboat racing, too numerous to record but some follow:
a. My own boats: Merit 25, THEATRIX - J24, HOT RUDDERED BUM - Olson 30, OLY - Tripp 40, B\\'QUEST in PHRF and One Design in San Diego
b. Bob Bridges, REDHEAD, Soverel 50, in PHRF San Diego, 562-925-5013
c. John Plander, Get Challenged, 858-488-9750, SURVIVOR (the boat LEAR JET was renamed SURVIVOR for the purpose of the race), Nelson Marek 56, sailing coach to prepare the crew for Transpac 97 (Los Angeles to Honolulu) and navigator/watch captain during the race
d. Chris Meyers, ITS ABOUT TIME, F-27 (tri-maran), Newport to Ensenada, 580-355-0341
e. Robert Bussard, UPROARIOUS, Olsen 40, San Diego to Puerto Vallarta, 858-693-5804
f. Josh Ross, Ahoy@ChallengedAmerica.org, Challenged America, volunteering to coach disabled crew aboard B\\'QUEST, a Tripp 40, for the Newport to Ensenada Race 2002, San Diego to Ensenada 2002, Newport to Ensenada 2003, and San Diego to Ensenada 2004.
8. other then boating
San Diego Crew Classic, Steve Marshall: Stephen.Marshall@brandes.com
HOW MANY CREW ARE NEEDED FOR A DELIVERY?
Normally the crew consists of one licensed captain and two others. Most insurance companies require this kind of crew make up. You should check with your insurance company concerning their requirements. Most policies are written to cover a certain area and your delivery may take the boat to another area. If you, the owner, come along the insurance company may not require so many crew. Generally if the trip is less then 12 hours I can do it myself, less then 48 hours I can do it with one crew, over 48 hours I can do it with two crew, very long trips may require myself and three. Remember fatigue is the primary reason for accidents so too small a crew is asking for trouble.

INSPECTION AND MAINTENANCE PRIOR TO A DELIVERY

This is information that I provide to everyone preparing for a delivery. Some items will be important to your situation and others not.

1. The biggest problem is fuel contamination caused by organisms growing in the tanks. The boat motion will cause these organisms to break loose clogging filters and, when very severe, fuel lines. Consider fuel polishing but this will not always solve the problem unless the tanks are opened and scraped. Check with local experts. Boats only used in bays or rarely seeing heavy wind and seas can have significant growth in the tanks without any problems in normal operations.

2. Flush cooling water systems and change oil and filters in all engines, transmissions and generators.

3. Change all fuel filters in all engines and generators, including fuel/water separators. Provide two spares for all filters (including fuel/water separators) and provide any special tools and/or gaskets needed for their replacement at sea.

4. Inspect all belts, replace if marginal, provide one spare for each different belt.

5. Batteries should normally be checked for water levels monthly and have the connections cleaned. If a battery uses a lot of water or if the connections show corrosion it should be "load" tested to be sure of its reliability. Likewise load test the engine mounted alternators.

6. Inspect all wiring, replace or repair if marginal (faulty wiring is the cause for most fires).

7. Inspect all hoses and clamps, replace if marginal.

8. Insure proper operation of all through hull valves. Many boats leave these always open and they will not close in an emergency.

9. Insure proper operation of all bilge pumps and that the bilges are clean so that nothing can clog the pump. Insure the pumps, float switches, and all wiring are securely mounted. It is very common for pumps and/or switches to be mounted improperly or not bolted down at all. If the pump and/or switches move in heavy weather the pump may not run when it should or may run when there is no water and burn itself up. Likewise improperly secured wiring can come lose or break in heavy weather making the pump not work when needed.

10. Insure proper operation of all lights.

11. Provide one spare impeller for each raw water pump (pumps that bring cooling water from the sea to the engines and generators) and any special tools and/or gaskets needed for their replacement at sea.

12. Check the radios by listening to a far off station like a weather station from the next region. Check its transmission in low power to a strong far off station like Vessel Assist. This can be difficult to do accurately. If this a long offshore delivery a professional maybe needed to insure proper radio operation.

13. Carrying extra fuel is safest in a fuel bladder, which can be bought from most marine stores. Usually some hose and a pump is also needed to get the fuel from the bladder to the tanks.

14. Fuses: in sure you have aboard spare fuses of the correct size for all equipment especially the navigation electronics and auto pilot.

If your boat has been used frequently and well cared for then many of these items will only require a quick check. If the delivery is short (like over night) then likewise some of the items relating to maintenance with longer intervals will not apply.

TRANSPAC 2001 - The Delivery Home

I just recently sailed from Honolulu to Newport Beach, California, my fourth trip back as a delivery captain from a race to Hawaii. The first trip was from the 1990 Pacific Cup aboard Tropic Bird, a 44\\' cutter to San Francisco. The second and third were from the Pacific Cups 1998 and 2000 aboard Bodacious, a Farr 40 one ton (IOR), to San Francisco as well. This time it was from the Transpac 2001 to Newport Beach aboard Taxi Dancer, a Rachel Pugh 68. (I\\'ve also raced to Hawaii as watch captain and navigator in Transpac 1997 aboard Survivor, a Nelson Merek 56.)

On Thursday June 28th, less than 72 hours before the boat was scheduled to start the Transpac, I received a phone call from the boat\\'s manager looking for a return delivery captain and crew. I didn\\'t think I could get a crew together so quickly or even clear my own schedule. I sent e-mail to almost everyone I know in an attempt to find crew. Approximately 40 people responded, although many had some reservations. By Friday afternoon (the very next day), I decided on four crew, only one of whom I had sailed with before and another I had not met.

I reached an agreement with the boat\\'s manager. We planned to fly to Honolulu on July 13th (I didn\\'t realize at the time it was Friday the 13th), the day of the Transpac awards banquet. (All went well regardless.)

Our crew consisted of Dave Bond, Erik Anderson, Rudolph Geissmann, and Mark Moody. We flew out of Orange County Airport, a great little airport; consider it when you can\\'t get a flight out of San Diego instead of going to LAX.

We arrived at the boat and met the owner and the manager for a quick tour. We all then had a free night with plans to meet at 0900 on Saturday to complete our inspection, inventory, fuel, provision, and depart that afternoon. (I got to spend some time with my friends Tom and Karen in Kaneohe, should they see this, thanks, I had a great time.)

Before we took off Saturday morning, we acquired another crew member, Brian Vander Zanden, who had raced over to Hawaii on Uproarious, an Olsen 40. We\\'ve known each other from previous races and deliveries.

There seemed to arise obstacles to keep us from being the first boat to start the return trip. We provisioned and fueled, but then we were informed that our propane bottle could not be filled at the fuel dock because it didn\\'t have a "bleeder valve" even though we had been assured the propane bottle would be ready at 1500. So, it was back to the slip for us.

After several phone calls, we found out we had to wait until Sunday morning to get propane. So we took the opportunity to relax and have a couple of drinks and dinner at the Surf Rider on Waikiki.

Sunday morning I took a taxi to get propane $6 for propane, $37 for the taxi and we were underway. On our way out we soon found out that our 125 gallson fuel bladder (with 80 gallons below deck) was leaking. On top of that, the trade winds were also blowing very hard, and we were having trouble reefing the mainsail; it required two trips up the mast, one by Brian and then one by me. So, it was back to the slip for us ... again.

Again it took several phone calls to find out where we could buy some jerry jiugs come Monday morning. One of our crew decided he was not up for this trrip; we were back to captain and a crew of four again.

Monday morning I got the twelve 5 gallon jerry jugs. But by now, after many boats had already fueled, the fuel dock was out of fuel and didn\\'t expect a refill until 1100. But we did manage to fuel and were underway once again (1200 local time, 1500 California time, which is the time we used throughout the trip). We first motored around the west side of Oahu until we reached the northwest corner and found the strong trade winds. We set the boat on a close reach and were finally on our way.

The watches were set: first watch team, Brian and Dave; second, myselhf; third, Erik and Rudolph. Initially watches were 3 hours 25 minutes with one 3 hour 30 minute watch every 24 hours. This was the plan for 48 hours, until everyone was familiar with the boat and we could all stand watch alonce. We accomplished our goal and got to a five section watch of 2 hours on and 8 hours off for the remainder of the trip.

Normally a sailboat will balance easily on a close reach sailing well with the wheel tied off but not Taxi Dancer. Possibly because of the large size of the wheel, no matter what adjustments we made to the wheel and sail settings she would not steer herself. We had to hand steer all the way back.

The trip from Hawaii to California means sailing at a close reach going almost directly north toward a way point at 38 N, 150 W. The weather is dominated by the Pacific High, so it is impossible to sail east against the trade winds. You\\'ve got to go north to either go over the top of the high to find northerly winds to take you east and south or sail into the high and then motor east until you find northerly winds to take you east and south. Since we were short on fuel, I planned to sail quite far north.

The delivery mainsail was significantly smaller than the racing mainsail; the foot was about a third shorter. The mast was carbon fiber and not reinforced where the sail\\'s head set in the mast at the first and second reefs, so the metal slides on the head board pulled out of the groove in the mast. So we actually had to go up the mast to tie the head of the sail to the mast, which obviously made raising or lowering the mainsail impossible without another trip up the mast. We sailed the entire trip with a double reef.

Onboard we had a storm tri sail (never used), a #3 jib (fair amount of use), and a storm jib (got a lot of use); we also had a jib top that was great when the wind was light, allowing us to sail at 10 knots in 10 knots of wind. We also got a lot of use out of the 3/4 ounce spinnaker aboard once we got close to California.

The routine developed smoothly with five section watches and the shifts to a smaller head sail at sunset and a larger head sail at sunrise, steadily moving north. The weather faxes kept showing the high also moving north, threatening us with a long trip, to get over the top of it.

We had the routine of talking over the SSB at 0900 and 1800 to the other boats. making the trip back: Yassou, Grand Illusion, Medicine Man, Bonaire, and Firebird were the boats ahead of us. There were also several boats following well behind that had spent time in Hanalei Bay, Kauai. Crews from all boats were expressing their displeasure with the high going north. Many of them had plenty of fuel to motor through it, but we didn\\'t. We waited a day more to turn east, as did the others except Firebird, who continued north to about 39 N, which turned out to be the better route.

We turned east and motored into 10 knots of wind. It wasn\\'t an efficient way to use our fuel, so after 12 hours of that, I was ready to turn north again.

Then the real drama of the trip began.

Bonaire, a 65\\' ketch belonging to Orange Coast College, with two paid crew and six college students aboard, had a very serious mishap. The main mast, stepped on deck, slipped off its step and went through the deck, stopping at the first cleat on the mast. Fortunately, it didn\\'t go through the bottom of boat. It happened around 0830, and we all found out at our regular 0900 radio talk show. We were closest, about 100 miles away, and we also had a SAT phone. We offered to relay messages, set up a radio watch to talk to them every 2 hours, and decided to continue east to stay close to them.

s

The crew of Bonaire attempted to stabilize the mast by shortening thes stays and shrouds, while continuing to motor very slowly east. They also made arrangements with the Coast Guard to transfer the students to a passing ship. We assisted them with their communications.

Later that night they tried to transfer to the tug Navajo with two barges bound for Hawaii but were not successful because of the high seas. About 24 hours later, they were successful in transferring to a freighter bound for Panama. By this time, we had lost time and distance; we turned north again. Bonaire said they were fairly stable and were fine to talk at our regular 0900 and 1800 chats.

So we were back to sailing more comfortably and regaining some lost distance. Bonaire had one more scare that we heard about when the mast became unstable, but they quickly set it again. Our communications with them continued to deteriorate, but they did have good communication with the Coast Guard. After about two days we heard nothing more from Bonaire and learned when we got home that they abandoned the boat Saturday, July 28th, and boarded a freighter bound for Panama. Bonaire was still floating but they had lost the autopilot and did not want to stay on deck to steer with the mast threatening to fall.

The rest of our trip was fairly routine. As we got above 38 N, we turned east in light air sailing and motored when we could not sail. Our planned land fall was near Point Conception, which is notorious for strong winds and choppy seas. Our approach toward shore lead to lighter and smoother seas. This gave us the opportunity to use our spinnaker. We could keep our speed up to 8 knots and minimize our engine use, as the fuel supply would run out before we could get to Santa Barbara.

As we headed north we began to catch up with Firebird, the boat that had taken the northernmost course, and we engaged in a sort of impromptu race with them to Santa Barbara. We beat them, arriving shortly before the fuel dock opened at 0700. Erik went up the mast to drop the sail before entering the harbor. The plan after fueling was to motor without sails the rest of way to Newport Beach.

Throughout the trip we tried to catch fish by trolling two lines with lures. We did board one fish but lost the second; both hit at the same time. It was a Mahi Mahi; we had some great sashimi with wasabi and later cooked the rest for dinner (still with leftovers for a full dinner the following day). However, no more fish, actually the fish must have been there because we eventually lost all five lures. (I\\'ve been successful in the past with catching fish, almost one a day, but not this time.) Our provisions consisted mostly of frozen hamburger patties, frozen chicken breasts, frozen vegetables, potatoes, onions, garlic, pasta and sauces, lunch meats, cheese, bread, apples, oranges, pineapples, mangos, and, of course, cookies. Preparation of evening meals was divided among the five of us, the crew on the 1500 to 1700 watch did the job.

The refrigerator was engine driven as was also the water maker (up to 40 gallons an hour) so we ran the engine for an hour twice daily once to recharge the batteries only and once for refrigerator, water and batteries.

Arriving at Newport Beach at 1930, we had been at sea 16 days 41/2 hours. All things considered though, despite the boat problems and the unpredictable weather changes, this return trip was the mildest I\\'ve experienced. (Times before were - 17 days 17 hours; 17 days 3 hours; 15 days 12 hours; for \\'90, \\'98, an \\'00, respectively.) [added 8/14/03, for 2003, Tripp 40, 18 days 12 hours to San Diego]

GETTING YOUR BOAT BACK TO SOUTHERN CALIFORNIA

You\\'ve decided to do the Gateway to Hawaii Race. You are recruiting crew and making lists to prepare your boat. You should also be making lists to prepare to return your boat.

You could move to Hawaii, you could put her up for sale when you get there, you could continue on a cruise to the South Pacific but if you can\\'t do any of these then you need to make plans for getting her back home.

You can ship her back, hire a delivery captain and crew, or you could bring her back yourself. The trip back can be very pleasant since there is not the stress of a race with plenty of open ocean sailing.

If you want to ship her back then you probably will be dealing with Matson who is about the only shipper from Hawaii to the main land. CSX, formerly Sealand, will take nothing exceeding 39\\'6" x 7\\'10" x 6\\'6". Matson (1-800-4MATSON) is currently charging (September 2001 with an expected increase in February 2002) from Kauai $173.38 per measurement ton. Your boat will go by barge from Kauai to Honolulu then onto a ship. You could take her to Honolulu yourself and then only pay $143.27 per measurement ton. What is a measurement ton? It is 40 cubic feet. So to determine your costs you must determine the volume of your boat. Your ship\\'s document will give you "length", "beam", and "depth". Add the length of your keel below the hull to "depth" then multiply these three numbers and you will have the volume of your boat which you can then divide by 40 cubic feet then multiply by either $173.38 or $143.27 to get a good estimate of your cost. The mast must be lowered and placed on the deck so if the mast is longer then the "length" that will add to the volume. The keel, pulpit, and life lines can be removed to reduce the volume. You must have a cradle to hold the boat and this may add to the volume. Your best bet to estimate the costs involved in haul out, lowering the mast and keel, and removing the pulpits and lifelines will be best determined by talking with your local boat yard. It is usually not cost effective to remove the keel. After you have this local information (after all they will be the ones putting your boat back together) you can then talk to boat yards in Nawiliwili and Honolulu. (In Honolulu: there is the boat yard at Ala Wai Harbor and Ke\\'ehi Marine Center). Used cradles are often available and can be modified to fit your boat.

Any of you who are interested in shipping your boat should let the Gateway to Hawaii organization know since Matson will offer a discount if several boats are shipped together.

If you decide to hire a delivery captain and crew you should start interviewing early. Many delivery captains advertise in papers like THE LOG. Most brokers, boat yards, boat workers, and sailing schools can put you in touch with delivery captains. The San Diego Skippers Association is a good source, 619-275-3839. You want a captain with substantial sailing and navigation experience. It is not necessary that the captain has made this particular trip before but he/she must have substantial experience. A good way to measure this is time at sea. Of course you should interview references.

Delivery captains can charge by the day or by the trip and need to charge enough to pay themselves a reasonable salary and cover all expenses related to the crew and the boat including transportation to Hawaii, food, and fuel. Most captains are willing to negotiate. You can offer to provide some or all crew (perhaps some of your racers want to make the trip back or you have other friends who would be interested). In this way you maybe able to significantly reduce costs by not having to pay professional crew but you may have to pay for their transportation and food. A good captain will want to earn $250 to $350 per day and will probably offer a set price based on the amount of time estimated for the trip plus anticipated expenses. You should know the speed of your boat and can make a good estimate of trip length. The race to Hawaii is measured at 2323 miles. The trip back will be longer with a measured distance of about 2716 miles but could be much longer finding the right wind and course combination.

If you want to bring her back yourself or hire a captain and crew you need to prepare the boat in much the same way you are preparing her to do the race.

Sails: You will want the delivery sails shipped to Hawaii so your expensive racing sails are not stressed during the trip back. It would be best to ship the racing sails back and not keep them aboard. You need, just like for the race, a storm jib and a storm tri sail, a main sail, a small working jib, a larger lighter wind jib, and a spinnaker. The better you make your delivery sail selection the better you can negotiate with a delivery captain and likewise the better trip you will have coming back yourself. You must raise all these sails at home before the race to be sure all running rigging is correct. You may find the reefing lines are different lengths for the delivery main as for the racing main. It would be wise to let your sail maker take a look at these sails well in advance so that any repairs can be made.

You should consider adding a third reef point to your delivery main. Yes you have the storm tri sail but consider how much work it really is to take down that main sail and put up the storm tri sail. Have you ever tried it in heavy winds and seas. When else would you expect to be doing this? If you have the option of a third reef you or your delivery captain are more likely to put in that reef early. If you have no third reef then the choice is to try to ride it out with the double reef or go through the real work of dropping the sail, getting it secured, and raising the storm tri sail.

Fuel: You must provide extra fuel and that means extra fuel containers. The more extra fuel the more options you or the delivery captain will have on courses and can expect a quicker trip. Fuel bladders are best. The best place is under bunks and other like places. You must measure the spaces carefully and put the bladders in place well before the race to be sure they will ride properly (watch for sharp edges) and then ship them to Hawaii with your delivery sails. You will also probably need a pump and hose to get the fuel from the bladders to your installed tanks. Jerry jugs can work but you should avoid carrying them on deck. Like the bladders you need to carefully measure spaces and in sure they will ride properly. You should be discussing this with your delivery captain well before the start of the race.

Food: For the race you will probably be able to prepare meals in advance and freeze them. But for the trip back you will not have the resources you have at home to prepare and freeze these meals. If the boat has refrigeration then you have more options but you will need more fuel. You can expect to catch fish on the way back but you can not depend on this when provisioning. Take ample dry (wilderness) food in case the trip goes longer then expected or your refrigeration breaks down.

Water: You are required to carry extra water for the race so these containers should be used for the trip back. It will be longer but you may have less crew. If you do not have a reliable water maker then be sure you have plenty of water. Remember a water maker will use more of your fuel.

Navigation, communication, and weather information preparations for the race will suffice for the trip back except that you will want additional charts and publications to cover the California coast from San Francisco to your destination.

The trip back: For the trip back you are dealing with the same weather patterns as you encountered in the race. The Pacific High dominates both the race and the trip back. From Nawiliwili you will set a close hauled course and continue close hauled up to about 38 north. A stop in Hanalei Bay on the north shore of Kauai could be a pleasant few days diversion then head out close hauled.

A good way point is 38N 150W. Sail close hauled, balance the boat, do not be so concerned about actually always steering directly to the way point instead let the wind direction determine your course for a fast balanced ride. You do not actually need to go to this way point the location of the High and the surrounding winds will determine your course. The first days the winds will be strong normally in the low 20\\'s expect to use that storm jib. You will probably want to further shorten sail before sunset as the wind will usually increase and those squalls will be there like they were during the last several days of the race. As you move further north the winds will lighten and you will start using the larger jib. Soon you will start thinking about using your engine. Keep an accurate count of your fuel consumption. Don\\'t run out before you get close to the coast. Keep some in reserve to make it into a harbor. Consider getting a membership with Vessel Assist or one of the similar companies to cover from San Francisco to your destination.

There is a temptation to turn on the engine and motor east too early. Unless you have very much fuel turning east early you will find making the last few hundred miles very slow going.

As you approach the high you will either want to continue to sail over the top to find northerly winds so you can then sail east and south or turn and motor through the high to then find those northerly winds to allow you to sail east and south. You really need to plan to sail as far north as 38N then turn to sail towards Point Conception then coastal to your destination. When you do use your engine you will do best if you steer directly for San Francisco then turn north again when the wind comes back. When you reach near 38N or you decide it is time to drive through the High you can then motor directly to Point Conception. Don\\'t head east too early get up to 38N.

The trip starts with the strong trade winds takes you through the calm winds of the high and then to the strong northerly winds closer to the coast. You will probably find the most wind and heavy seas when you are closing the coast but by then the winds will be on your beam and your ride will not be too rough. You will probably be glad you had a third reef in your main and actually use your storm jib.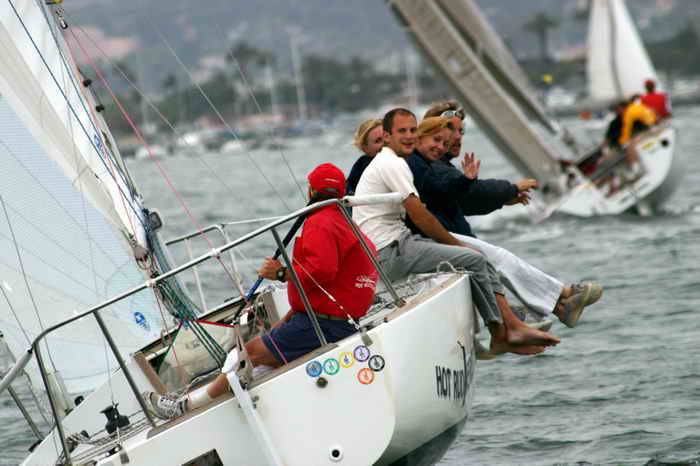 Keith racing his J24 on San Diego Bay
SOMETHING TO THINK ABOUT
This just happened off Baja. What would you have been doing to save yourself and your boat if it were happening to you? What preparations or modifications would you have made to make this situation easier to deal with?
REPORT:
Boba 30 sunk off the Baja Coast.
12:45 at night.
Started rapidly taking on water.
Probably through hull or hose failed.
No bilge alarms so he did not know pumps were running.
Probably ran down the batteries as neither engine or generator would start.
12 to 15 knots of wind with 8 ft. swell.
Engine would not start so he could not use power to hold him into the wind to drop sails.
Small boat and hard to handle in the slop.
Tried to head up and drop the main, but could not get it down. Was single-handing and I expect could not keep it into the wind.
Put out a Mayday and boat came by and picked him up.
The good news is that he is home safe.
He was rescued by a Sport Fisher and brought back to San Diego then he flew back to Portland. Boat and all possessions lost but he is safe.
MY RESPONSE:
I received several good comments about the sinking. I will summarize and add my own thoughts. 
<>
First we all must agree we were not there and cannot know exactly what went on and cannot say exactly what should have been done.
All sailors should be thinking about these kinds of situations and take actions to prevent or minimize the chances of them happening. 
All sailors should be thinking about how to handle a situation like this on the particular boat they are on every time they are on any boat. 
For cruisers there is plenty of time to mentally visualize these kinds of situations and plenty of time to walk through a drill that might save your boat and yourself. 
Through hulls, hoses, and clamps should be inspected often. You should close all through hulls not in actual use at the moment. Open the through hull when you need
to use it. Just the act of looking at these through hulls will keep you aware of their condition and the conditions of the hoses and clamps. 
You should have a battery dedicated to starting the engine and keep that battery turned off or in a separate circuit so the rest of the "house" services cannot take
energy from that battery unless you really want it to. It is unlikely that the bilge pump(s) ran down the house batteries and the engine starting battery (if not isolated). 
The bilge pumps would have to have been running for many hours. Regular inspections below decks should be the routine on all boats. Most cruisers will have only
one person on watch and that person needs to inspect throughout the boat about every 30 minutes meaning the boat needs some kind of self steering system to allow
you to go below. The batteries may not have been able to start the engine be cause they were under water. Where are your batteries located? They should not be so
low in the boat that submersion is possible except in a catastrophic holing of the boat. Being able to turn the boat into the wind to drop the sails without the use of the
engine is something that all sailors need to be able to do, practice! Perhaps there was so much water in the boat that it would not turn into the wind. I have had only
one situation when a boat would not turn into the wind and that was because a great amount of kelp had been caught on the keel. I had to do a few gibes to drop the
kelp.

 

But why did he want to drop the sails. Heave to, which will balance and stabilize the boat, allowing you to go below to find the leak and take action. Practice
heaving to often under different sea and wind conditions. Know the location of every through hull; inspect one by one, (if you have already closed all except the ones
actually in use then you have very few to inspect). If the hose or clamp gave way simply close the through hull to stop the leak. Have a proper size soft wooden plug
tied to each through hull so if the through hull itself failed you can pound a plug in the hole. Have on board a product like Flash Zone (an epoxy that will harden
underwater). Think about and practice doing these things. 
Things to do before you go cruising: 
A high water alarm is an excellent idea, make it loud, on many boats even the engine alarm is not loud enough to really alert you. 
Plumb a hose from your bilge to the intake of your main engine (include an easy to operate "Y" valve to choose to take water from outside or inside the boat) so you
can use the engines cooling system to pump water overboard.

  
Have a life raft, EPIRB, and survival suits. Practice using them. 
Take along enough crew. Single-handing although done by many is not the actions of a prudent mariner. But don\\'t let this be the scapegoat here. Even with other crew
aboard they each need to know enough to be helpful and of course not injured. So even with crew aboard you may find yourself in a single-handed position when you
didn\\'t want it (maybe a man over board). 
Work with your crew by talking about these and other situations. Be sure they know where everything on the boat is located. Practice taking actions to save the boat
and yourself. 
Know how to use your radios to ask for help and teach your crew how as well. Be able to give your position with a description of the boat, the weather and sea
conditions, and the nature of the emergency.

  

Talk about this with your crew. Encourage them to ask questions. Do role-playing. Listen to other emergency situations
on the radio when the opportunity arises, talk about it, discuss what you heard, what sounded good, what needed to be be better.